Well, first, some positives. A sunny morning, so we went for one of our favourite short walks around St Leonards – shops, galleries, architecture, gardens and flowers, sea… Have written about it before but will repeat – it is worth it! Weather has been terrible the last few days, but we have escaped snow. On Tuesday I went up to London for the day, to meet old friends Sue and Sue. A plug – but possibly not for the reasons they usually expect – for the Marylebone Ivy Cafe. But the state of the nation – Grrr for goodness sake it is beyond awful.
So, first, the walk. The picture above shows our morning's spoils – pretty modest, for us. This time last year poor Philosopher was in the Conquest recovering from horrible surgery, and I used to feast on these Co-op hot cross buns. Here is the post about it. In hindsight, it is no wonder that I suffered insomnia and irritable bowels on a diet of that stuff.
Anyway, on with the walk. We park in the Marina car-park, and walk along the front past the Royal Victoria Hotel etc. Briefly popped into the Arts Forum – it is but a shadow of its former self.  We called into the Funky Stuff junk yard – the bloke there is v pleasant, and he often has some nice things. Got the 60s/70s German vase pictured above – we have a collection of them by our fireplace, and this one is both an unusual shape and very striking colours.  Then up London Road, making a detour to the Co-op to get the buns, and up Norman Road. Many, many shops and galleries to browse here… We went into the Lucy Bell Gallery, and much enjoyed an exhibition, 'Closer to Home' by Emily Allchurch. She does what are described as Digital Photo Collages, and very striking the work is too.  Some are prints, and some are lightboxes. It is good to see someone use new high-tech media to create original, creative works of art. We bought a little catalogue which appears in the top photo. She also makes interesting architectural capriccios (is that the right word?) based on Piranesi engravings – they have some of those in the gallery, too.
Anyway, at the top of Norman Road cross and go up Mercatoria past the little Mosque, then along past the handsome terrace of houses in Stanhope Place. Then, if you have never seen it, take a look round the corner to the left at The Lawn – magnificent old houses round a communal garden. You can choose to go up Maze Hill, or detour round The Uplands, a group of classic Decimus Burton 'double villas'. These are usually photographed in Tunbridge Wells, but we have just the same here… There was an article about Burton recently in the Guardian – here is the link.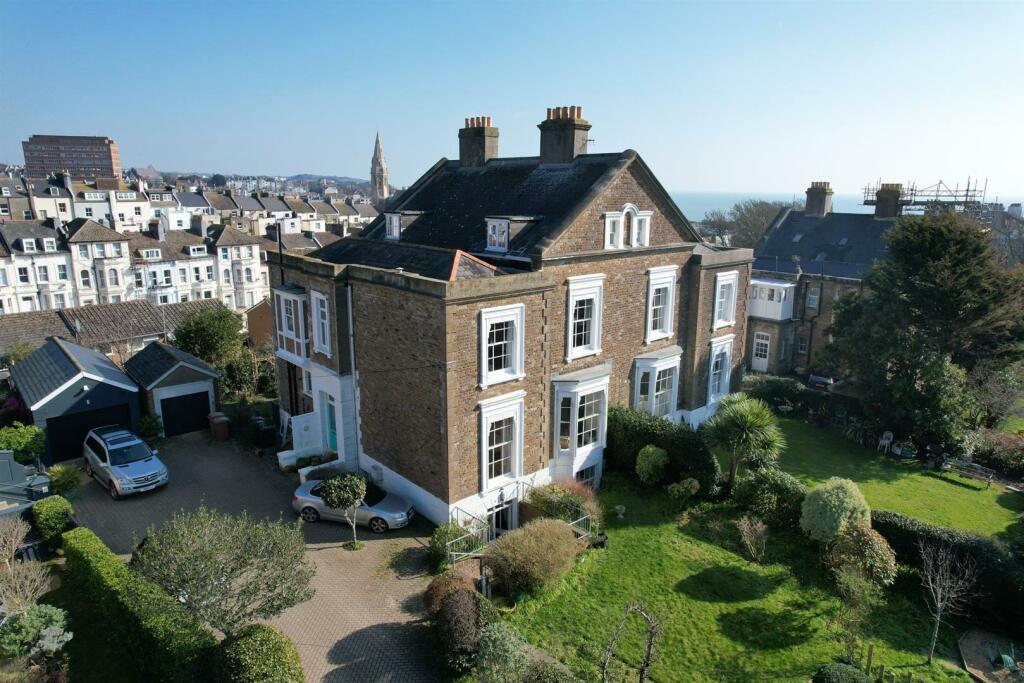 We chose to go up Maze Hill – wonderful old mossy wall oppositite the Clock Tower/Folly at he edge of the Gardens. First real signs of spring…
Almost by the archway, turn left down into St Leonards Gardens. At this time of year they have lovely displays of crocuses and daffs – not quite as good as usual because much of the ground seemed to have been scoured into mud, but still colourful and cheerful.
Down through the Gardens, out through the bottom archway, past the front/back of the hotel (what is now the front was designed by Burton to be the back. The front faced inland, so guests could easily pass from the hotel to the Assembly Rooms, now the Masonic Hall). Then onto the sea front and back to the car park. Bright but v chilly cold wind…
Nice, huh? Met our friend Marcia…
So, London. I met the two Sues in the Ivy Cafe, Marylebone. Nice lunch. Here we are…
I paid for my share on my card, then one of the Sues paid for both of their meals on hers. When I was on the train home I got a call from the Ivy (they had my number because I'd booked the table). They said I had been overcharged by £30 and I needed to give them my card details to refund the money. 'Oh no, how very dare you!' sez I, 'I know I paid the right amount. This must be a scam!' Ring off. To their credit they ring again with same message. 'Oh no,' sez I. 'I still don't believe this is real… But I'll do an item by item check of the bill and call you when I get home.'  Added up what I had, what I had paid, rang them back… 'Oh no…' bla bla rant. Then the bloke eventually asks if I had checked with my friends – which I hadn't. Turned out it was Sue who had overpaid. Called them again, eating humble pie… Anyway, next thing, they don't refund me £30 but take £30 out of my account, so they now owe me £60!  By this time, Philosopher is thinking this is a scam! But it got sorted. Full marks for them for customer service, persistence and unshiftable politeness when faced with a ranting Battleaxe…
Talking of Battleaxe ranting, we are currently right in the middle of the Lineker tweet row.  Look, I know the Beeb is in thrall to the likes of its  dodgily-appointed Tory Chairman (Richard Sharp) and his chums, and is but a dead cat to be thrown to the right-wing media wolves, but this 'Nazi tweet' rubbish is way beyond ridiculous. What the man said in his tweet didn't even mention Nazis and is actually correct.  We now live in a world where no criticism of the Tories or their crack-pot, evil measures is now possible. Looks like the beginings of fascism to me…. We currently have BBC sports staff walking out en masse. Good on them. Trouble is, most of them will slink back eventually. Maybe the row will enable a few more people to wake up to what is happening… but quite likely also embolden a few more nasty racists… sigh.