It is two years since we visited our favourite little house on the riverfront in East Cowes. It was wonderful to arrive and find it all so much the same. Not much changes on the Isle of Wight! Our view up the River Medina to the Solent can hardly be bettered, and as before, we could happily spend our days on the balcony just watching the river traffic, and evenings enjoying the beautiful sunsets. Battleaxe has posted about our two previous IOW visits – see this post from 2019, and this from 2018.
I think if you put all those posts together, you'll get a good picture of what to do and where to go on the island.
However, this time there were a few differences. Firstly, the weather was just fabulous, best ever.  Sunny day after sunny day, sea mirror calm and bluer than the sky… Next, only tiny downside, our visit coincided with the Isle of Wight Festival – around 60,000 potentially Covid-infested youth in Newport about 4 miles away from us up the river.  Here's a view of the masses. However, as you can see, most of the 60,000 crammed together in one small space, and we managed to avoid them.  Thank goodness to have no desire to go near such things.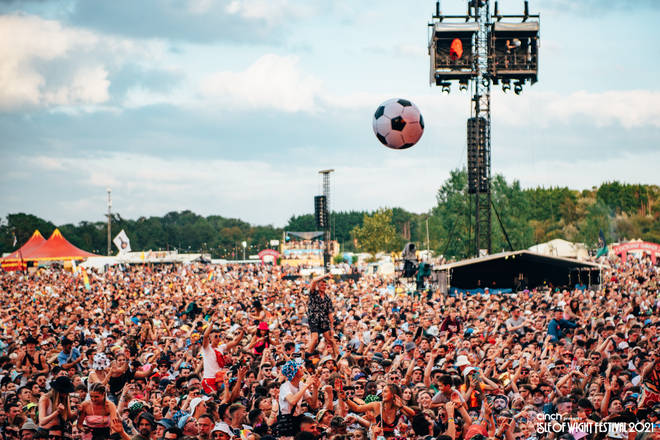 The evening we arrived, we had guests!  Our friends Bob and Alison were staying at Freshwater, and drove over to see us – a bit of a roundabout journey to avoid the Festival. This year, the infamous Floating Bridge was not working at all, so they parked in Cowes and travelled across the Medina on the little ferry, which is just opposite our house. It was strange to have guests arrive by boat.  Of course, another advantage of our house is its proximity to Waitrose, so cooking was not required.
On our first day, we actually got to Shanklin Chine – closed on our two previous attempts to visit. Battleaxe was determined to go – readers may have gathered that she loves Victorian pleasure-gardens, and Shanklin Chine is supposed to be one of the best – people have been visiting since 1817.  Well, it didn't disappoint, and Battleaxe would recommend. The gorge is steep, narrow and very spectacular, with entirely suitable volumes of babbling brooks, waterfalls, romantic rocks, ferns, crumbling bridges, dangling creepers etc. There is a wonderfully old-fashioned Victorian cottage and tea-garden.
Talking of tea-gardens, one thing about the Isle of Wight is the proliferation of tourist attractions. You can't blame the locals, tourism is the biggest business for the island, but almost every farm you pass has its tea-garden, often with added craft barns, gifte shoppes, owl sanctuaries, antique warehouses, alpacas… you name it. Some are OK, but some are tacky in the extreme….
Anyway, after our disastrous efforts in previous years we didn't risk another attempt to visit the famous thatched pub on the beach, the Fisherman's Cottage – but of course, wouldn't you know it, this time it was open, with folks sitting outside eating crab sandwiches…
Philosopher wanted to visit Tennyson's house at Farringford, but needless to say the house was closed and the gardens were only open on days we couldn't go… That's another thing about the IOW – places have wildly varying and idiosyncratic opening hours/days/seasons… Made worse, of course, by the Pandemic Effect. Instead, we went to Dimbola, the home of Victorian photographer Julia Margaret Cameron, near Freshwater.  For those who don't know, she took many photos of famous men, but many more soft-focus compositions of random people dressed up as mythological/Shakespearean/Biblical figures, posing in 'tableaux vivants'. She is celebrated as a feminist hero – a photographic pioneer.  However, apart from the famous portraits of the likes of Holman Hunt and Tennyson, Battleaxe was not keen on the other stuff – it felt a bit nimby-namby, a bit exploitative, and to be honest, a tiny bit boring…
They had a device that enabled you to pose behind a filter screen and get a Cameron-esque image. Here is Battleaxe, looking disturbingly like her mother.
After, we walked up to the Red Lion pub, just by the old church in Freshwater village, which was reputed to have one of the best Sunday lunches on the IOW. Well, that roast beef was truly excellent, and the pub was very good. Battleaxe would recommend.
After lunch, no matter being so full we could scarcely move, we went on a very pretty walk back to Freshwater Bay… passed this crumbly old farm building, then across a little lake, and through some fields.
On the same afternoon, we visited a truly beautiful National Trust garden, Mottistone Manor.  It was just stunning – an old stone manor house and sheltered gardens set in a bowl of treelined hills, with views down to the sea. If we had the energy, we could have gone for many walks round the wider estate, including to see ancient standing stones etc., but we just tottered about the garden, sat on sunny benches and then collapsed into the pretty tea-garden. Battleaxe would totally recommend.
We revisited Ryde – maybe too many Festival types trekking along the Pier to the ferry station at the end. Why do youth have to walk everywhere six abreast?  Battleaxe ended up playing Chicken  – just marching straight ahead, elbows out, glaring at them until they shuffled aside. I won every time until I was confronted with another woman my own age who wasn't giving way! We had a good mosey up the steep High Street – there are many, many interesting independent shops, cafes etc – seemingly not affected too badly by the pandemic.  Battleaxe recommends Ryde.
Enjoyed another visit to the excellent Chocolate Apothecary cafe – their chilli hot chocolate is to die for.
One day we went to Yarmouth – our first visit since 2018. It is a pretty little place, with a street of beautiful Georgian houses leading down to the sea. Philosopher and I decided we'd have this one…
There is a quirky little Pier… and some quirky little shops…
Battleaxe bought a skirt, and Philosopher bought a new Tilley hat. We ate our lunch by the waterfront, sitting in the sun, not looking at anything very much…
Then we went for a walk down the old railway track that leads from Yarmouth to Freshwater, along the River Yar. We'd actually walked along the other end of the track earlier in the week, on our way from the pub  in Freshwater… We saw plenty of birds, including this heron.
We visited Fort Victoria, just by Yarmouth, by accident – I had found a tea-room marked on the map, but it turned out to be in an old fort set in a country park – again, lots of potential walks round about – and, I read, a beach full of fossils – all for another time! More tea, and suitably enough, Victoria sponge…
One more visit to note – to St Mildred's Church in Whippingham. This was Queen Victoria's church when she was at Osborne. The building looks like something out of a Harry Potter movie – it was largely designed by Prince Albert, but he died just before its official opening. The Queen sat in a special seating area up by the altar, the walls of which are covered in memorials, commissioned by her, to Albert and her dead children/relatives. Albert was only 43 when he died…
The whole church is full of historic information and memorials, including a small, hidden memorial to Czar Nicholas II of Russia and his family, who died in 1918…
For lovers of history this church is a gem, and the churchyard is also beautiful, and very interesting. And oh – of course there is a tearoom! Battleaxe recommends.
After the Isle of Wight, we went on to Chichester – I'll do that in another post – this is getting too long. I'll end  a few more photos of the scene from our little house in East Cowes.  Looking at all the photos in this post the IOW looks very quiet – indeed it is, but the roads are very busy and very narrow. Philosopher drove and I navigated – my eyes nearly fell out of my head with the effort.  However, it is a great place to have a holiday.